Rising Design Star Challenge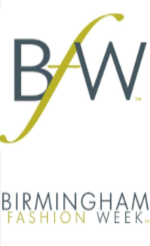 The 6th Annual Birmingham Fashion Week (BFW) will be held August 25-27, 2016 at the historic Boutwell Auditorium in downtown Birmingham, AL. This 3-day event is known across the southeast as one of the top fashion shows bringing in locally and nationally acclaimed designers, retailers, and press, front and center to the BFW stage. The "Rising Design Star Challenge" was created to promote, encourage and inspire the talented youth within our state through the creation of wearable pieces of art. The inspiration behind this years show is the "Future of Fashion." Junior High and High School students will compete for a chance to win cash prizes along with college scholarships as they display their creative talents on the BFW stage. For complete rules and details, please see the information packet and application here.
All applications for the "Rising Design Star Challenge" must be received NO LATER than Monday, May 9, 2016. A panel of judges will review   each application and select the top 60 applicants who will move onto round 2, the actual creation of the conceptual sketch. You and your parent/guardian will be contacted by phone and email on Monday, May 16, 2016 if you are selected to move onto the 2nd round. At that point, we will give you all the information needed for the remainder of the competition along with the measurements that you will need to create your garment to fit to the specifications of our mannequins. Your garment will be on display at the front lobby during BFW 2016 (mannequins provided by BFW). The 60 applicants will be split into 2 groups with 30 RDS showing on the runway on Thursday night and 30 RDS showing on the runway on Friday night. Student designers (RDS) must be available on either Thursday or Friday night of BFW as the he/she will be introduced on the runway with his/her garment. On the night that you are not showing on the runway, your garment will be on display at the front lobby of BFW. Judging will take place on the runway and at the display at the front lobby. The top designs from each night will move onto Saturday nights "Fashion Finale" where the top 3 garments will be awarded prizes according to "THE REWARD" section below. The RDS is responsible for finding his/her own model for their designated night of BFW and possibly on Saturday if he/she is chosen. You are also responsible for styling the models look from head to toe.
ASCA Awards Visual Arts Achievement Program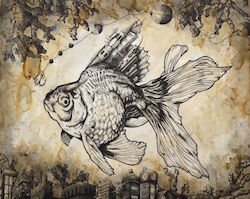 Montgomery, Ala. – On Friday, April 29, at 1:00 p.m., ninety-five (95) students from across the state will be invited onstage at the State Capitol auditorium to receive an award for their creativity as visual artists. By submitting a painting, drawing, print, mixed media, sculpture, photography or digital art, each of these students won an award in their hometown district.  Their work then traveled to Montgomery to be exhibited at the Georgine Clarke Alabama Artists Gallery, from April 1-29. The state exhibit will culminate with an award ceremony to honor these exceptional students, their teachers and their schools. Every student who placed in the state exhibition will receive a Blue Ribbon Award. There will also be awards given for Best of District, Best of Category, and Best of Show.
This year's Best of Show will go to Jordan Brazell, a 10th grade student at Booker T. Washington Magnet High School, Montgomery, for Bob's Ocean, a mixed media drawing of ink, watercolor and charcoal. Rachel Dudley is Jordan's teacher; also winner of the teacher award. The School System Award will go to Jefferson County Schools; Craig Pouncey, Superintendent.
Visual Arts Achievement Program Full Press Release here
Poetry Out Loud 2016 Alabama Winners annouced!
Congratulations to the Alabama Poetry Out Loud winners for 2016
Original Poetry -...Miss Abigail Kunkle, Huntsville
National recitation - Miss Raina Verner, Huntsville
---
How Artists & Arts Organizations Can Recover After Any Crisis
Halloween can be even more meaningful this year by promoting an altruistic lifestyle and giving back to your community. Check out these 13 spooky Halloween fundraising ideas.
Focusing on positive thoughts can actually impact your overall health. How, you ask? Today we dive in and see how positive thoughts can make you healthier.
October happens to be Adopt a Shelter Dog Month. So, how can you celebrate this month and support another incredible cause? We have some cool canine concepts.