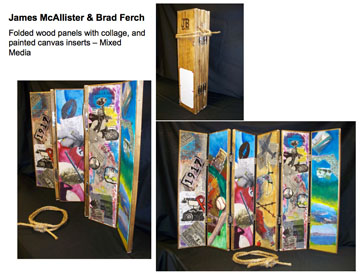 Guntersville High School students worked with senior citizens to create a project depicting their lives.  The senior citizens were interviewed extensively by the Advanced Art students.   They got to know them and about their lives.   Then the students created a visual story of their lives.   The culminating activity was going to the senior center for their "spring fling" and presenting their visual story to the senior citizen.  The students also took a class in ball room dancing so they could dance with them during the spring fling.   There were a lot of tears from students and the seniors.     
Their Art Teacher, Valerie Jones, actually had to work as a partner - a student left the school.
A film student create a video that documented the whole process and everyone got a copy of the DVD.
#BecauseofArtsEd Post your story on social media using this hashtag or send us your story, we'll post it for you!
The Alabama Alliance for Arts Education
supports and advocates for
policies, practices, and partnerships  
that promote excellence
in arts education.

---
AAAE is a statewide partnership program
of the Alabama State Council on the Arts.
---

Gel Press was a 2016 co-sponsor of SAIL, through a generous donation of Gel Press Plates that were used in our wonderful Creating Value Workshop, July 10-13, 2016.
The art produced during Creating Value was featured in short poetic videos produced by participants.
In addition, participants received a full setup of materials to take back to their classrooms.
We believe...

that all Alabamians should have equal opportunities to discover and
to develop their talents.

We believe...

that all Alabamians should have a sequential and comprehensive
education in the arts.

We believe...

that all Alabamians should gain enough knowledge about the arts in order to understand their own cultural heritage and the cultural heritage of others.
---
---