Terri Smith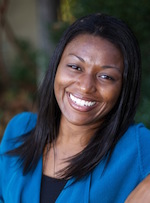 TERRI D. SMITH is a Birmingham native
"and is thrilled to have the opportunity to serve with Alabama Arts Alliance for Education. She is dedicated in her efforts to serve and provide opportunities in"
"production and performing arts to schools and students. As a dance production specialist, choreographer and dance teacher, Terri takes her craft to heart and enjoys helping organizations to develop, implement and grow their arts programs. She's a 2003 graduate of Samford University, with a degree in theatre and is the recipient of the Trail Blazer Award for the vital roll she played in bringing dance to Samford. Her work has been seen at various events around the state—City Stages, Sidewalk Film Festival and the Alabama Shakespeare Festival. Terri has also performed in and produced dance works for local productions of Aida and Songs for a New World. She has also produced an evening of works to benefit"
"Alabama Teen Challenge, a local non-profit organization. Most recently, she performed with Movement Workshop Group in "Racine D'Or". Terri is also a board member of the Alabama Dance Council and is looking forward to more opportunities to serve students and organizations through the arts. She lives in Alabaster, AL with her loving and supportive husband Mychal Smith."
E mail Terri p31Smith@gmail.com