Jessica Thompson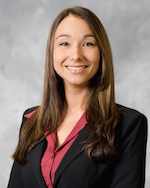 CPA, Warren Averett, Montgomery AL
Jessica is from Opelika, AL and currently lives in Montgomery. She married my high school sweetheart in March 2007, graduated from Auburn University with a Bachelor of Science in Business Administration in August 2007, and obtained a Master of Accountancy in August 2008. Upon graduating with a Masters degree in 2008, Jessica became a CPA with Warren Averett, LLC where she is currently employed.
Jessica has served on the Board of the Alliance for 3 years and currently serves as the Treasurer. Before she joined the Board, she was looking for an opportunity to serve in a leadership capacity as well as get more involved with the Montgomery community since she was relatively new to the area. A partner the firm suggested Jessica for Board membership.
"Since joining the Board, I have met many interesting people who harbor such a passion for the arts. I have learned so much from these individuals and have begun to share in their values and principles. The arts are, and should remain, a vital part of our community. Arts education promotes countless positive and essential attributes including motivation, confidence, cohesion, creativity, and critical thinking. These qualities lay down a strong foundation for starting a career in essentially any professional field and advancing and excelling in that career. It is my belief that the arts are key to allowing an individual to tap into their full potential and lead a successful and fulfilled life."